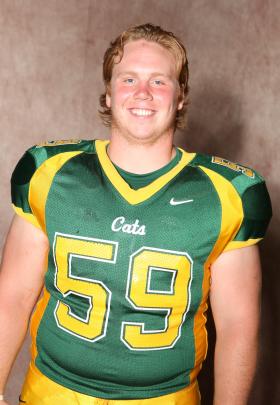 Back to work boys! We thought the Grand Valley game was big. Well guess what, this one with NMU is now
HUGE
!
Why is this Cat smiling? It probably has something to do with the fact that his Northern Michigan Wildcats have won 5 straight football games including a 45-20 thumping of then 5-1 Wayne State.
NMU's Matt Forward (right) had a big fumble causing sack in the fourth quarter that blew open a then 31-20 ballgame. Teammate Nathan Yelk scooped up the loose ball and carried it 25 yards into the endzone.
Forward, Yelk, and the rest of the Wildcat defense held WSU and Joique Bell to 92 yards rushing. Well, Bell actually carried the ball 30 times for 107 yards but the Wildcats had 30 yards in tackles for loss while the Northern offense generated 209 on the ground and 163 passing.
Antonio Wallace had 88 yards rushing and a td. Mark Bossuah had 97 yards and scored twice.
As great as this past Saturday was for Hillsdale in its win over Grand Valley, the Chargers
MUST
find a way to get re-focused and ready to play in Marquette or that great win will all be for naught. We all know of the disaster that ensued at Findlay after Hillsdale's last big win. Let's hope they have learned from that loss and will be able to handle their latest prosperity.
The Chargers will have the rest of their lives to revel in the joy and honor they earned last Saturday. Now is time for the boys to get back to work and earn some more honor.
Charger nation is once again energized at a level we haven't seen since the early 1990's. Don't let them off the hook boys!