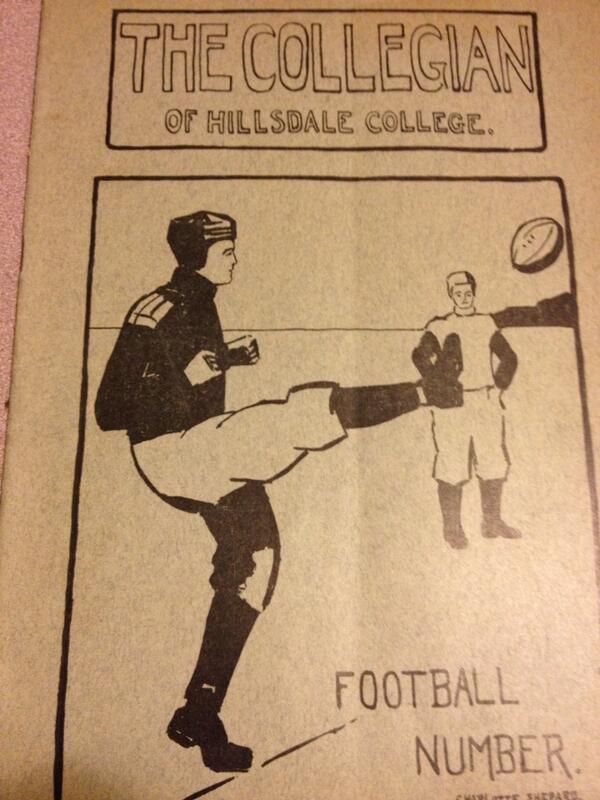 December 11, 1907 Hillsdale Collegian
A few years back I bought a December 1907 copy of the Hillsdale Collegian on eBay for a couple of bucks.
Much of the issue celebrates the exploits of the Hillsdale "11"'s 4-2 season, especially its 21-0 shutout of hated Albion and the 87-5 win over Kalamazoo which was the highest score that year in Michigan and the second highest in the nation. Hillsdale outscored its opponents 144-63 and the reported called many of those points to be "fluke" touchdowns.
As entertaining as the accounts of football being played in the early 1900's can be, I found a little piece of timeless football wisdom written by former Athletic John A. Dalrymple:
"The country wants football players as citizens. It has too many mollycoddles now. It wants men who can take knocks and play on, who won't stoop to low mean tricks. Men who will obey their captain whoever he is, will run interference who seemingly gets the honor. All of these things football will do and Hillsdale owes it to itself, its students, and the country to furnish such men. "
It still does and Hillsdale Football continues to deliver.